6 Android to iPhone Transfer Apps: A Comprehensive Overview
Transferring data from an Android to iPhone can be a daunting task, especially when considering the significantly different operating systems. However, several apps are designed to make this process seamless by allowing you to transfer essential data, such as contacts, messages, photos, and more, with ease. In this article, we discuss the top 6 Android to iPhone transfer apps in detail, highlighting their key features, advantages, and disadvantages. By the end, you will have a clear understanding of which app is best suited for your needs.
Various 6 Apps for transferring data from Android to iPhone
Source: Geekflare
The MobileTrans App is a versatile phone data transfer solution that facilitates the fastest cross-platform transfer speeds. This user-friendly app ensures data transfers between devices without compromising content quality.
Features
Scan QR Codes: Connect devices securely and quickly using QR codes for content transfer.
No Internet Required: Transfer data without needing a Wi-Fi network, mobile data plan, or cables.
Sync iCloud Data: Easily sync data from your iCloud to new Android devices.
Fastest Data Transfer Speed: Transfer all mobile data to another device in no time.
Supported Devices
Compatible with iOS 12.0 or above and Android 7.0 or above.
Supports various phone brands, including Apple, Samsung, Huawei, Google, Sony, Honor, TCL, Xiaomi, Oppo, LG, and Motorola.
Advantages
User-friendly interface with a 1-click transfer process.
Fast and efficient data transfer speeds.
Supports more than 3000 devices.
Preserves data quality during the transfer process.
Disadvantages
The trial version offers limited features, requiring a subscription for full access.
The app does not allow the selection of specific files, only entire folders.
2. Move to iOS App
Source:Reviews.org
The Move to iOS app automatically migrates your content from an Android device to an iOS device securely and directly. Data protection is ensured with the app requiring users to transfer content over their own private internet connection.
Features
Efficient Data Transfer: Moves contacts, message history, camera roll, videos, web bookmarks, email accounts, calendars, and free apps.
No PC Required: Transfers data directly between devices without needing a computer.
Secure Connection: Connects devices over a private Wi-Fi connection or personal hotspot.
No Reset Needed: Can migrate content without resetting the iPhone, provided there is sufficient storage space.
Supported Devices
Android 4.0 or above ("Ice Cream Sandwich"), iPhone 5 or later, operating on version iOS 9 or above.
Advantages
Completely free of cost.
No computer is required for data transfer.
Excellent customer service.
Disadvantages
No option to transfer data back to an Android device.
Only compatible with devices when used for the first time.
3. SHAREit
Source:aptoide
SHAREit allows you to transfer device content to a PC, Mac, or another device operating on different software. With lightning-fast transfer speeds and impressive features, this app is a popular choice for over 12 million users worldwide.
Features
Fast Transfer Speeds: 200 times faster than Bluetooth, with speeds reaching up to 20M/s.
All File Types: Transfers all kinds of apps and files between devices while maintaining quality.
Multi-Device Sharing: Share content with multiple devices simultaneously.
Cross-Platform Compatibility: Transmits data between phones, computers, iOS, Android, and Windows devices.
Supported Devices
Android 2.2 and up, iOS 7.0 and up. Not compatible with macOS.
Advantages
Can share any file type regardless of size or format between supported devices.
Much faster than conventional Bluetooth transfers.
No internet connection or cables are required.
Disadvantages
May slow down devices with low storage.
Potential for transferring content with bugs or viruses.
4. Xender
Source:Xender
Xender is a free and easy-to-use app that allows you to wirelessly transfer all types of content from one device to another within minutes by connecting to the same direct Wi-Fi network.
Features
Fast Transfer Speeds: Reaches speeds of up to 40Mb/s for efficient data transfers.
No Internet or Cable Required: Transfers data without the need for Wi-Fi, mobile data, or cables.
Large File Support: Sends files of any size without limitations.
Cross-Platform Compatibility: Exchanges data between devices such as tablets, PCs, and Windows.
Supported Devices
Android 2.3 (Gingerbread) and up.
Advantages
Works without an internet connection or USB cable.
Permits cross-platform sharing.
Can share information with four separate devices simultaneously.
199 times faster than Bluetooth transfers.
Disadvantages
Contains an excessive number of ads.
The app may restart during the transfer process.
5. Send Anywhere
Source:Send Anywhere
Send Anywhere is a secure peer-to-peer file-sharing app that uses P2P networking to avoid cloud storage, leaving no traces of your shared content online. With a one-time 6-digit code, you can transfer unlimited files between devices without requiring an account or registration.
Features
Wide Accessibility: Used by over 9 million users in 140+ countries.
All File Types: Sends any file type, including music, pictures, videos, documents, and more.
Cross-Platform Compatibility: Transfers content between Android, iPhone, PC, Mac, and other devices.
Supported Devices
Compatible with all iOS and Android versions. Works efficiently with all devices.
Advantages
Strict privacy policy.
User-friendly interface.
Can transfer large-sized data.
No data or Wi-Fi is required for transfers.
Disadvantages
Cannot transfer multiple files simultaneously.
Contains ads.
The receiver must wait one minute before downloading the file.
6. Copy My Data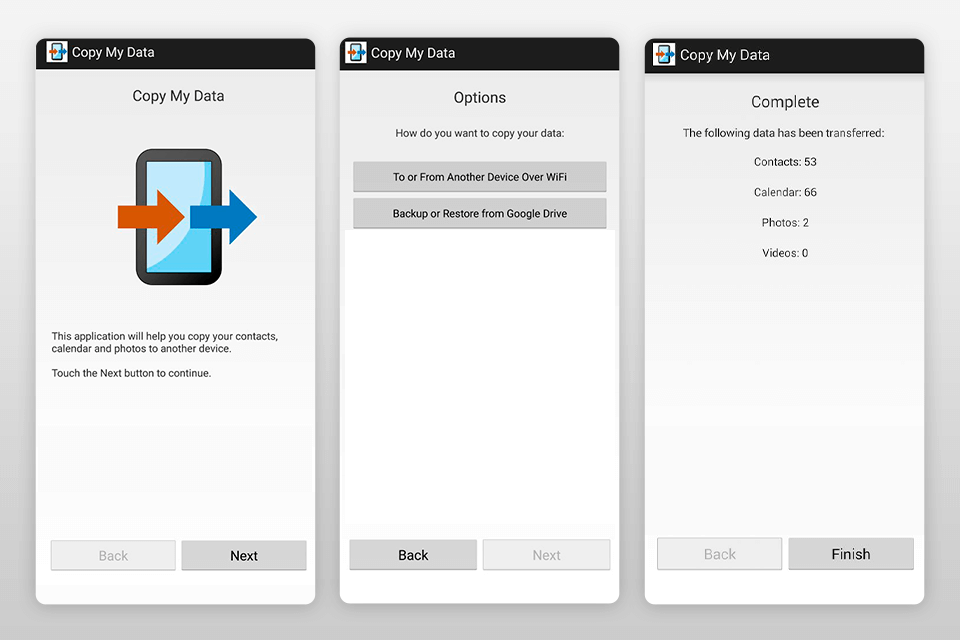 Source: Photo Retouching Services
Copy My Data is a free and secure software by Media Mushroom that allows you to transfer Android files to an iPhone via a strong Wi-Fi connection.
Features
Ease of Use: Simple user interface for seamless transfers.
No In-App Purchases: Completely free to use.
Versatile Data Transfer: Transfers contacts, pictures, calendar entries, and more between Android and iPhone devices.
Supported Devices
Android 2.3.3 and up, iOS 7.1 or later. Compatible with iPhone, iPad, and iPod touch.
Advantages
User-friendly guidelines are provided for app usage.
No computer is required for data sharing.
Disadvantages
Contains ads.
Limited file transfer options.
Conclusion
Transferring data between Android to iPhone devices is a common task, but it can be challenging due to the differences in operating systems. With the apps listed above, you can easily share your data from Android to iPhone without any hassle.
Each app offers unique features and benefits, so it's essential to choose the one that best suits your needs. We recommend trying MobileTrans, as it provides both mobile and desktop versions, giving you the flexibility to select the perfect solution for you.
Also Read:
Top 7 Fashion Influencers of India You Need to Follow